Simon Flint – Managing Director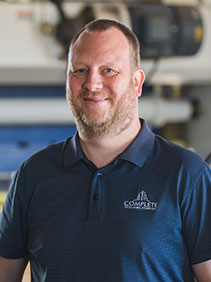 Simon has extensive knowledge within the Engineering and Manufacturing industries with a career spanning 30 years across two continents.
His career commenced in the North of England, working for a global manufacturing company where he studied Mechanical Maintenance Engineering, successfully completing his apprenticeship and gaining further recognition adding BETEC and CoG qualifications to his portfolio.
In early 2000, Simon relocated from the North of England to Australia which would see his career move in a new direction within the Fabrication Industry. Over the next 20 years, Simon gained experience through a variety of positions including Tradesman, Draftsman, Project Manager, and Business Manager, culminating in Business Ownership & Directorship.
Christopher Ryan – Director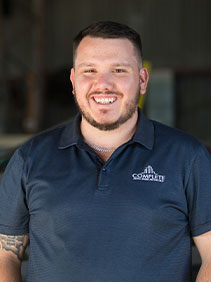 Christopher has over 10 years experience within the Fabrication and Construction Industries where he has held numerous positions including Project Manager, Contracts Administrator, Estimator, and Business Operations Manager.
Christopher has extensive knowledge and proficiency within the fields of AutoCAD, Microsoft Project, Scheduling, Project Estimating, Project Costing and Sales.
Christopher's experience is complimented by the extensive studies and qualifications that he has gained throughout the course of his career. These qualifications include a Cert IV in Management, Cert IV in AutoCAD, Cert II Fire Protection Inspection & Testing and 5S & Lean Manufacturing accreditation.
Christopher is an energetic motivated professional who is both passionate and committed to his projects and clientele.
Joel Hoffman – Production Manager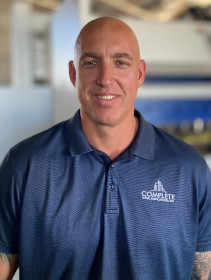 Joel has amassed over 20 years of experience in the metal fabrication industry.  Working through the ranks from apprentice Sheetmetal worker, through to tradesman and later fulfilling roles in management, Joel brings a wealth of experience to our organization
Joel has extensive experience working on large scale resource projects throughout Queensland, including LNG & Power Generation developments.
Joel holds the position of Production Manager with Complete Metal Fabrications and assumes responsibility for the day to day running of our fabrication facility.
Kristian Irwin – Site Manager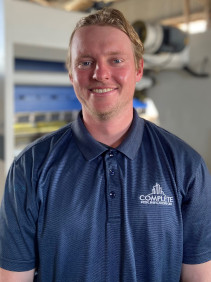 Kristian holds the position of Site Manager with Complete Metal Fabrications and leads our on site installation crews on projects throughout Queensland.
With over 10 years experience, Kristian has worked on multi million dollar developments from large scale warehouse projects to school and university expansions.
Kristian holds a trade certificate in heavy metal fabrication and is responsible for the quality installation of our metalwork products throughout the state.
Nicky Brennan – Administration Manager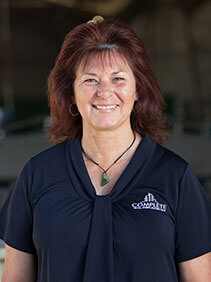 Nicky joined the Complete Metal Fabrications team in early 2020 and holds the position of Administration Manager.  Nicky has attained a Certificate IV in Business Management and has extensive experience in administrative roles across various industries.  Through her efficiency and good communications skills, Nicky ensures the smooth day to day running of our office.
Rob Clelland – Architectural Technician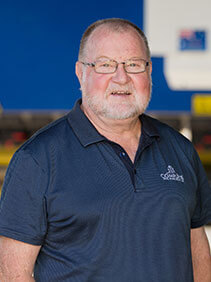 Rob has a wealth of experience within the construction industry having worked the majority of his career as an Architectural Technician.  Rob's knowledge within the industry is invaluable to our organisation.  Rob advises our estimating & production teams from the pricing stage through to design and fabrication.